We're not talking about the American Bald Eagle, but the Florida Gulf Coast University (FGCU) Eagles alumni, who have spread their wings and landed safely here at Johnson Engineering.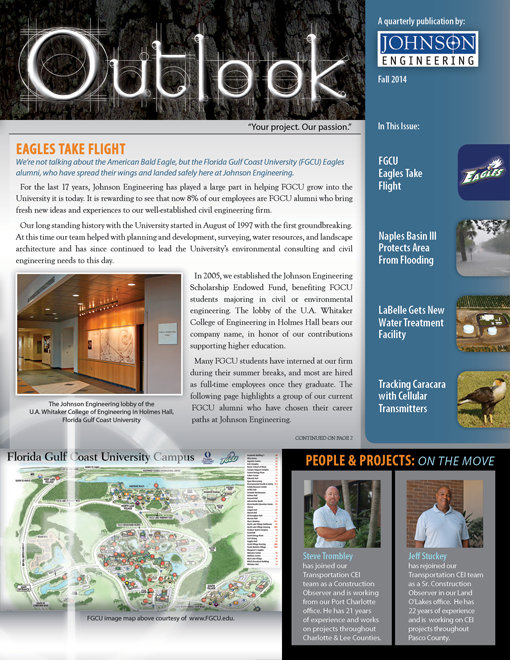 For the last 17 years, Johnson Engineering has played a large part in helping FGCU grow into the University it is today. It is rewarding to see that now 8% of our employees are FGCU alumni who bring fresh new ideas and experiences to our well-established civil engineering firm.
Our long standing history with the University started in August of 1997 with the first groundbreaking. At this time our team helped with planning and development, surveying, water resources, and landscape architecture and has since continued to lead the University's environmental consulting and civil engineering needs to this day.
In 2005, we established the Johnson Engineering Scholarship Endowed Fund, benefiting FGCU students majoring in civil or environmental engineering. The lobby of the U.A. Whitaker College of Engineering in Holmes Hall bears our company name, in honor of our contributions supporting higher education.
Many FGCU students have interned at our firm during their summer breaks, and most are hired as full-time employees once they graduate. The following page highlights a group of our current FGCU alumni who have chosen their career paths at Johnson Engineering.